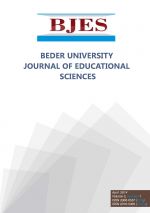 VOLUME 5 / APRIL 2014
VOL - 5 / 2014 - APR
A future whose roots lean in the past "yahya kemal"
Abstract
Yahya Kemal, who used the rules and principles of the old poetry, is one of the most important representatives of Turkish poetry and he placed the metaphor of Divan literature in his verses. However, it is not wise to accept Yahya Kemal as the representative of old poetry since he was stuck between the old and the new poetry. Based on his poems, a poetic evaluation about him is the idea that he is a "bridge between the old and the new poetry" and it is accepted by all the researchers. In this study, according to his own poems and the other works, Yahya Kemal's poetic thought about the old and the new poetry will be put forth.
Keywords
Yahya Kemal; Poetic; Divan poetry; Modern poetry; interaction
Authors
Semra Nur ÇELİK & Ahmet ÇOLAK
This work is licensed under a
Creative Commons Attribution 4.0 International License
.
Warning
: mysql_free_result() expects parameter 1 to be resource, null given in
/var/www/journals/bjes.beder.edu.al/article.php
on line
45