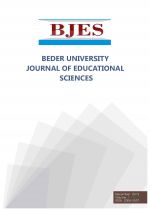 VOLUME 26 / JUNE 2022
VOL - 26 / 2022 - JUNE
Neuroticism Symptoms Among Population During the COVID-19 Pandemic
Abstract
The occurrence of neuroticism symptoms seems to have arisen in the population after the COVID- 19 pandemic, along with the toxic positivity symptoms. Neuroticism is a general dimension of individual change. It is widely regarded as the single most important feature of the human personality. In this regard, this article will address this symptom of psychopathology and will argue on the basis of the literature and the theoretical framework in order to examine the basic characteristics of the trait and why it is important. In addition, the aim of this article is to better understand the occurrence over the period of the COVID-19 pandemic in the population. For the analysis, the article uses an exploratory methodology to further identify the phenomenon in question. As seen from the analysis, neuroticism has important implications for almost every aspect of human functioning. Neuroticism is highly correlated with other pathologies with depression, generalized anxiety disorder, and borderline personality disorder, which on the other hand have contributed to increased neuroticism occurrence in between the population post during and post-pandemic. Severe neuroticism is a feature that was somehow widespread in public health, following the COVID-19 pandemic, along with many other psychopathological implications.
Keywords
Neuroticism, pandemic, population, symptoms, psychopathology
Authors
Valbona Treska, Fleura Shkëmbi
This work is licensed under a
Creative Commons Attribution 4.0 International License
.
Warning
: mysql_free_result() expects parameter 1 to be resource, null given in
/var/www/journals/bjes.beder.edu.al/article.php
on line
45