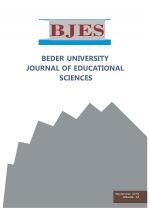 VOLUME 12 / SEPTEMBER 2016
VOL - 12 / 2016 - SEP
Is The Teacher A Facilitator Or A Monitor?
Abstract
The study aims to identify the factors concerning the teacher`s role for making students' learning effective in language learning environment. Through qualitative method, the study was done in order to give the details of those factors, which are influential for drawing the attention/interest of the students towards learning language in the classroom. This is a comparative study concerning correlation between two significant factors, since the study is related to human behavior that helps for predicting likely outcomes between facilitator and monitor as variables. The significance of facilitating and monitoring is known well by the teachers. In this regard, the views of John Dewey shed lights to the researcher for finding out the role of the respective teacher as facilitator or monitor. With the help of the present study, which behavioral role as a teacher would be helpful for meeting the needs of the students in language learning process or for making the lesson be loved by the students? The data were collected from the views of various researchers including the views of the researcher of the present study, since the researcher had a long term teaching experience in language teaching in various countries. The limitation was that the study involved in the views of the researcher and the others and lacks of any questionnaire and interviews with anybody. The study shows that the teachers need to exhibit the behavioral role of both facilitator and monitor. The researcher is of the opinion that John Dewey used the word the teacher as facilitator meaning that the particular teacher has the role of making learning process easier and also directing learning activity overall. Both role causes actively participating of the students towards the learning language.
Keywords
Supervisor, Behavioral role, facilitator, Teacher`s role, Language learning
Authors
Lokman COSKUN
This work is licensed under a
Creative Commons Attribution 4.0 International License
.
Warning
: mysql_free_result() expects parameter 1 to be resource, null given in
/var/www/journals/bjes.beder.edu.al/article.php
on line
45