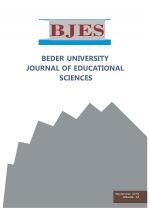 VOLUME 12 / SEPTEMBER 2016
VOL - 12 / 2016 - SEP
Treaty Of Lausanne and Expulsion Of Albanian Chams In Turkey
Abstract
The Treaty of London in May 1913, decided to establish the province of Chameria, where lived Albanian ethnicity indigenous, to stay within the borders of the Greek state. The history of Albanians Chams in Greece has two important events. The first event had been related to the Treaty of Lausanne of 1923's that had been related with the exchange of Albanian Chams in Greece with Greeks that lived in Turkey. The second event had been related with the Albanians Chams genocide during 1944's, where thousands of Albanian Cham residents of the province of Chameria forcibly moved to Albania and some other countries.
The Treaty of Lausanne's first step that had clearly defined intention against Albanian Chams from the Greek government. Greece based on this treaty's rights and obligations arising launched its project for evacuation and expulsion of Cham Albanians. By using political clauses in articles 1/45 of the treaty for the exchange of Greeks which were living in Turkey with Turks lived in Greek. Greece presented the Albanian Chams as Turkish population due to be based on their religion. So Greek government exploited Albanian Chams in Turkey and brought back in Greeks those who lived in Turkey.
This paper aims to focus on analyzing the Lausanne treaty articles that support the exchange of populations between Greece and Turkey. Also in this paper will be analyzed the possibility that the Greek government have misused these articles according to its own interest on the expulsion of the Chams from Greece toward Turkey.
Keywords
Treaty of Lausanne; Turkey; Albanian Chams
Authors
Klodjan SHAQIRI
This work is licensed under a
Creative Commons Attribution 4.0 International License
.
Warning
: mysql_free_result() expects parameter 1 to be resource, null given in
/var/www/journals/bjes.beder.edu.al/article.php
on line
45