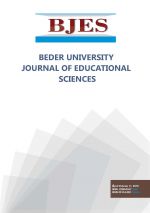 VOLUME 11 / APRIL 2016
VOL - 11 / 2016 - APRIL
PHILOLOGY REREADING PLAYBACK OF NEZIM FRAKULLA (BERATI)
Abstract
Literature in Arabic script is again looked to the exclusion of marginalized, it left a void; in culture. It should reread to assess, without judging. By establishing a new relationship these poetic assessment code of poets, it will test that remains an open literary works poetic structure. Empirical research that has not escaped the desire teoritizim, even the need for assessment of general commitment of systematization tries to bring a modest contribution to resolving concerns that brings demand the objective quality assessment of tradition, in support of a 'literary story' absent. The choice of empirical grounding method created original approach in interpreting the evolution of poetic figures this pioneering poetry. 'Its systematic study and critical edition of certain texts would show that it represents an important part of the Albanian cultural heritage and artistic literature startup must be requested at least a hundred years earlier than it was thought until now. It would also provide the opportunity for comparative studies varied.' Now that literature define as sign language, we must recognize that the Albanian literature and poets, who began as a genre a sort of poetic import, failed to become literature Albanian prove firmly supported on rooted ethnocultural, to settle deserved it highlights E. Koliqi.
Keywords
arabic script; code of poets; empirical grounding method;rooted ethnocultural
Authors
Rahim OMBASHI
This work is licensed under a
Creative Commons Attribution 4.0 International License
.
Warning
: mysql_free_result() expects parameter 1 to be resource, null given in
/var/www/journals/bjes.beder.edu.al/article.php
on line
45