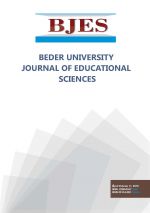 VOLUME 11 / APRIL 2016
VOL - 11 / 2016 - APRIL
ANALYSIS OF THE BARRIERS INFLUENCING THE MANAGEMENT OF INCLUSIVE EDUCATION IN PRIMARY SCHOOLS IN EMBU COUNTY, KENYA
Abstract
Introduction of Inclusive Education (IE) was expected to change its methods of leadership and management which were viewed to be discriminative, segregated, allowed stigmatization to continue, did not change people's behavior, did not offer quality education, and never removed inequality of all forms, and allowed exclusion from meaningful participation in the economic, social, political and cultural lives of their communities. The practice for better management and subsequently better improved services for CWSN was found to be still problem. The critics of Inclusion and those who are resistance to change make the practice and implementation of inclusive education very difficult to manage, and this has been the biggest barrier to the effective management of inclusive education. One constrain beyond the managers of inclusive schools is whether the current practices and policies of implementing inclusion could really assist in the running of Inclusive Education effectively. Another gap noted is that of management issues themselves such as unclear management policies some of which emerge from the regular education and have to be implemented to the latter in inclusive schools. Learners with special needs in inclusive schools are still being over-retained by the management in certain instances because of failure to meet the mean score. This paper therefore set out to analyze the barriers influencing management of inclusive education in primary schools.
Keywords
Education, Learners, Special Needs, Disability, InclusiveEducation
Authors
Wanjiru Jane MUGAI
This work is licensed under a
Creative Commons Attribution 4.0 International License
.
Warning
: mysql_free_result() expects parameter 1 to be resource, null given in
/var/www/journals/bjes.beder.edu.al/article.php
on line
45