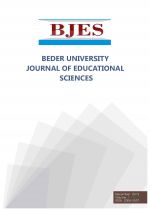 VOLUME 1 / DECEMBER 2012
VOL - 1 / 2012-DEC
Investigating the factors affecting students' decision making process in post-secondary education: A case of Madrasa schools in Albania
Abstract
This study investigates the factors that inluence student's choice of university in admission process in Albania. A questionnaire metholodology was utilised in the study to ind out data in relation with desision making process of the students. A qualitative was used to get reliable data through using secondary data. This study helps students to understand which factors are more important than others when selecting a university. Some factors such as friends and teachers of students at a high school that play very important role for this decision. And, the abilities and competence of students are the most inluential factors that affect choice of branches or departments as well.
Further, socio-economic status of family and individual-level background characteristics are basic impacts on student's choices. The present study will be beneicial to give guidance for students who are on trail of the best choice of university along with branches. It reveals that negative elements are also playing key roles in their choices to make sound decision, such as; bad habits, wrong choice of friends, unorganized ways of studies, unawareness of the importance of decision making for post-secondary education.
Keywords
Post-secondary education; Choice of university; Decision making; branches
Authors
Mustafa Salih Ergun & Lokman Coskun
This work is licensed under a
Creative Commons Attribution 4.0 International License
.
Warning
: mysql_free_result() expects parameter 1 to be resource, null given in
/var/www/journals/bjes.beder.edu.al/article.php
on line
45