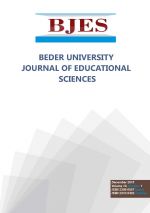 VOLUME 10 / DECEMBER 2015
VOL - 10 / 2015 - DEC
Classroom Management and Bullying – A Recent Phenomenon of the 21st Century Schools
Abstract
When discussing about classroom management, we no longer tend to consider it as a simple technical issue of the schooling system. On the contrary, classroom management is treated as a basic component of schooling and the teaching process. Since school is intended to provide students with the basic desired learning outcomes, then classroom management should not be viewed as an end in itself but as a means for creating and maintaining a learning environment that is optimal in achieving the intended curricular goals. Recognizing that classroom management is a fundamental support for the learning and teaching process, while on the other side bullying in schools has begun to receive serious attention, it is to be admitted that little is known about the relationship between classroom management and bullying in the classroom. The process of exploring this kind of relationship between the two, goes through a detailed investigation among classroom management techniques, students' behavior, physical environment, social factors, teachers' methods and practices etc. The paper intends to ind
the answer to some questions regarding bullying in our schools. How much is the bullying phenomenon spread in Albanian schools? What are some of the reasons that lead to bullying troubles among students themselves, as well as students and teachers? What strategies do teachers apply to deal with the bullying phenomenon? Under what circumstances is bullying more likely to occur in the school environment?Therefore through this paper by exploring the relationship between bullying and classroom management, by providing an answer to the above questions and discovering the techniques teachers implement to reduce it, we would be able to ind out how much bullying interferes in classroom management issues, and how we can solve it. This would undoubtedly offer some
help for the teachers in treating with the bullying phenomenon in their teaching practices, in order to achieve well managed classrooms.
Keywords
Classroom management; Bullying; Phenomenon; Strategies; Practices
Authors
Lenida Lekli
This work is licensed under a
Creative Commons Attribution 4.0 International License
.
Warning
: mysql_free_result() expects parameter 1 to be resource, null given in
/var/www/journals/bjes.beder.edu.al/article.php
on line
45