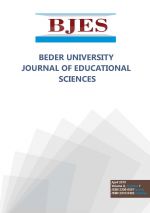 VOLUME 8 / APRIL 2015
VOLUME 8 / 2015 APRIL
School Attachment and Implications of Study Skills in Diverse Educational Settings
Abstract
The variety of the languages used by lecturers as the instruction language at a university level, educational approaches, methodologies, and instructional devices cannot be separate from school settings, students` foreground and background diversities (region, origin, gender etc.) and most signiicantly students` study skills in overcoming with challenging problems and achieving success in terms of academic achievement. Apart from aforementioned factors, pluralism in post-secondary education is one of the challenges of the globalized world, nonetheless it can also be considered as an advantage in joining a wider network of communication throughout the world which can elevate students` perceptual understanding of the world they live in. In this study, together with scanted data obtained by other researchers it is aimed to rephrase the signiicance of ``study skills`` in handling challenges of today`s post-secondary education as in raising self-awareness about variants of study methodologies as well as importance of language acquisition in pluralist (in terms of variant languages used for instruction) secondary and post-secondary educational settings. A partial data analysis of
a survey obtained from 95 participants of a high school in Albania is also relected in regard with students` study skills.
Keywords
Foreground and background diversities; Study skills; Educational settings; Self-awareness
Authors
Mehmet ASLAN
This work is licensed under a
Creative Commons Attribution 4.0 International License
.
Warning
: mysql_free_result() expects parameter 1 to be resource, null given in
/var/www/journals/bjes.beder.edu.al/article.php
on line
45