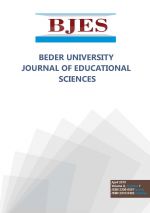 VOLUME 8 / APRIL 2015
VOLUME 8 / 2015 APRIL
How Can We Create a Healthy Relationship With Children?
Abstract
The quick changes of technology and science in 21st century have inluenced many ields and this affect is still felt. Family itself is one of those that have felt these affects. Family, that is the core and representative of society has one important place in institutions. The role of family is essential in universal values and even in formation of personality. Mothers and fathers are irreplaceable in moral education of the child. Even though school looks like it is the irst place of education, it is family where the irst steps are taken. The child during his life learns moral codes and rules that are needed, from his parent's education and takes them as model of life. Many positive values as generosity, sacriice and honesty are transmitted during childhood in the family. At this point the communication and attitude toward the child are the basic factors that interwove their life. In this article it is discussed theoretically the communication with children during the childhood and its effect in moral development. To create a successful and healthy communication the irst condition is that parents should give examples from their own life. This follows up other factors as respect, share of personal life between the members of the family and managing the questions correctly. During the dialogue between the parents and children instead of the message "you" it should be "I, me" and paying attention is one of the indispensable elements in one healthy communication.
It requires a lot of effort to contribute in children's development of personality and socialization, or in contributing in his ability to improve his communication with the others and you should contribute in children's development of personality and socialization. It requires a lot of effort even in contribution to child's ability to improve communication with others and sharing community with them. If this is provided without experiencing a conlict inside the children he may become conscious and social person. This is why nowadays parents and educators by coming through a healthy communication with children and working on making more attractive the necessary moral values, is one human responsibility. The purpose of the study is to guide parents in raising and education of children who are the future of our community. This study aims to show parents ways to communicate with children and getting to know them, and contribute the future studies.
Keywords
Family; Communication; Moral education; Children; Development of personality
Authors
Ayşe KUTLU
This work is licensed under a
Creative Commons Attribution 4.0 International License
.
Warning
: mysql_free_result() expects parameter 1 to be resource, null given in
/var/www/journals/bjes.beder.edu.al/article.php
on line
45