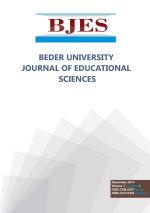 VOLUME 7 / DECEMBER 2014
VOL - 7 / 2014 - DEC
Effective Teaching Strategies that Induce Students to Adopt a Deep Approach to Learning in Higher Education
Abstract
The concept of approach to learning has been studied extensively because it is strongly related to students' level of understanding and learning outcomes. In general, three different approaches have been described: deep, surface and strategic/achieving. In this paper is discussed the concept of approach to learning and proper teaching strategies in higher education context that induce students to adopt a deep approach to learning. The aim of this paper is to argue that the approaches to learning cannot only be seen as mere student-dependent characteristics, but as one can be dependent on a number of factors as personal (e.g., student gender, age, prior experiences) and contextual (e.g., teaching/ learning activities/methods, perceived workload, assessment procedures, institutional values),(Biggs, 1987; Zeegers, 2001). In the light of this discussion, some of theories of university teachers` approaches to teaching are described and some of effective teaching strategies are suggested in address to higher education teachers. Considering approaches to learning and teaching as issues of real concern for higher education institutions today, this paper seek to bring a modest contribute not only to quality of debate which surround this area, but also to get hold of opportunity for some relection on current practice of higher education.
Keywords
Approach to learning; Factors inluencing student`s approach to learning; Theories of teachers` approaches to teaching; Good teaching in university; Teaching strategies in higher education
Authors
Valentina Haxhiymeri (Xhafa)
This work is licensed under a
Creative Commons Attribution 4.0 International License
.
Warning
: mysql_free_result() expects parameter 1 to be resource, null given in
/var/www/journals/bjes.beder.edu.al/article.php
on line
45