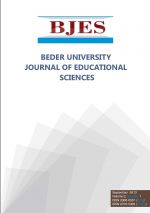 VOLUME 3 / SEPTEMBER 2013
VOL - 3 / 2013 - SEP
Information Communication Technology in Education and Language Teaching: Teachers' Effectiveness Factor and Students' Achievement in English Language
Abstract
In recent times, the dynamism of information communication technology has created a complete new world of learning. Advances in Information Communication Technology (ICT) have great potentials of teaching and learning in education. Besides, the journey towards technological development and the growth of language could be traced from several decades before the independence of several African countries, including Nigeria considering the fact that language is an essential ingredient for all learning at all levels. Education also is essential for the development of individual and the growth of any dynamic society. Education and language are the backbone of any prosperous nation, and the core of the civilization of any dynamic nation. This study seeks to examine the diversities of technological devices in education towards the teaching and learning of English language in Nigeria
secondary schools. The subject sampled were senior secondary school students and teachers. Simple percentage and frequency counts were used to analyse the data collected. The indings of this study indicate that technological advancement in education is a major route to enhancing teachers' effectiveness in the classroom
activities and students achievement in English language; if conducive environment are ensured and teachers are trained and well – motivated. This is a very germane initiative towards the growth and development of both the teachers and learners of English language. Recommendations were given on the usefulness of various technological devices and strategies to improve students' academic achievement in English language through the judicious application of these multimedia devices.
Keywords
Education; Language; ICT; Teachers' Effectiveness; Academic Achievement; Multimedia Technology; Computer – Assisted Language Learning (CALL) and CD ROM.
Authors
Ruth Foluke ADEBILE Johnson Olusola OGUNYEMI Bosede Abiola OLUDARE
This work is licensed under a
Creative Commons Attribution 4.0 International License
.
Warning
: mysql_free_result() expects parameter 1 to be resource, null given in
/var/www/journals/bjes.beder.edu.al/article.php
on line
45