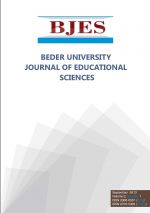 VOLUME 3 / SEPTEMBER 2013
VOL - 3 / 2013 - SEP
Implications of Herbert Spencer's Concept of Knowledge of Most Worth to The Achievement of Knowledge Economy Through Research And Innovations
Abstract
As Universities, scholars, researchers and related institutions continue in pursuance of knowledge through research and innovations, one key question could be: which or what knowledge is of most worth? In other words, which knowledge should be sought most or prioritized? This paper seeks an account that would yield an understanding that could best inform the choice of priority areas in the pursuance of knowledge for innovation and development.
Keywords
Knowledge; Research; Worth; Education
Authors
Wycliffe AMUKOWA & Josephine KIRIMI
This work is licensed under a
Creative Commons Attribution 4.0 International License
.
Warning
: mysql_free_result() expects parameter 1 to be resource, null given in
/var/www/journals/bjes.beder.edu.al/article.php
on line
45