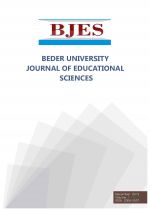 VOLUME 1 / DECEMBER 2012
VOL - 1 / 2012-DEC
The internal evaluation process of the universities a key need for quality assurance in Higher Education– Model of European University of Tirana
Abstract
The European Standards and Guidelines provide the framework for the national quality assurance systems in three axes: (i) Internal quality assurance, (ii) External quality assurance, (iii) External quality assurance agencies.
Internal quality assurance from the Bologna perspective stressed that "the primary responsibility for quality assurance in higher education lies with each institution itself". In Albania is established the Albanian Public Agency for Accreditation of Higher Education. This agency is responsible for the external evaluation of the public and private Institutions of Higher Education in Albania. The European University of Tirana has successful accomplished both internal and external evaluations for the accreditation of itself, as institution, and of all current Study Programs. Now EUT is an accredited university.
This paper will present how EUT has accomplished its internal evaluation for more than three times over six years. The main focus of this paper is to present the internal evaluation in EUT as a participatory and inclusive process, based on a real consolidated quality assurance system, equipped with its principles, structures, mechanisms, instruments, procedures and criteria. This experience can be a good example/model for other institutions of higher education in Albania.
Keywords
Quality assurance; Higher Education; Process; Structures; System; Procedures; Instruments; Standards
Authors
Tomi TRESKA
This work is licensed under a
Creative Commons Attribution 4.0 International License
.
Warning
: mysql_free_result() expects parameter 1 to be resource, null given in
/var/www/journals/bjes.beder.edu.al/article.php
on line
45