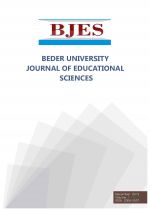 VOLUME 1 / DECEMBER 2012
VOL - 1 / 2012-DEC
Developmental Academic Advising: Involvement of Advisor, Professor and Classmates
Abstract
This study examined the possibility of developing an academic advising system based on the impact of perception of others on university students' consciousness and motivation. It is hypothesized that students' knowledge of how they are perceived by classmates, academic advisors and professors makes them more conscious and motivated towards certain perceivable characteristics that affect their future life and academic achievement. 15 different perceivable characteristics were selected for the purposes of this study. The application included two administrations; one at the beginning and one at the end of the semester. Results compared students participating in the study with other classmates. All the results were sent to students conidentially in order to make students more motivated and conscious after each administration.
Keywords
Developmental Academic Advising; Motivation; Consciousness; Self Monitoring; Social Comparison
Authors
Hasan UGUR
This work is licensed under a
Creative Commons Attribution 4.0 International License
.
Warning
: mysql_free_result() expects parameter 1 to be resource, null given in
/var/www/journals/bjes.beder.edu.al/article.php
on line
45